June 4, 2022:
Sacred Sea (@oursacredsea) has announced that Sk'aliCh'elh-tenaut (Tokitae / Lolita) has had her health assessed by two independent veterinarians and the report is now available. The assessment was carried out by James McBain, DVM retired, and Stephanie Norman, DVM, PhD.
The assessment was carried out on May 13 and 14, 2022, where a health and welfare assessment was conducted. Medical and behaviour records from 2016-present were reviewed which included the various medications Toki is on.
During the two days Toki's behaviour was observed during enrichment sessions and while she was not engaged in enrichment sessions.

Most notably, Toki was suffering from an acute illness beginning in late December 2021 to March 2022, described as a "serious health event". Bloodwork results showed the illness and subsequent recovery but didn't specifically reveal the cause of her illness.

Toki is now recovering from her illness and remains on appropriate medications. Tokitae also suffers from low-grade chronic anemia. Tokitae's health will continued to be monitored and on-site assessments will be carried out on a regular basis. (@end__speciesism)


June 2, 2022:
To commemorate Children's Day, Shanghai Haichang Ocean Park has finally announced the birth of an orca. The male calf was born on September 10, 2021, at 1:16 am (Beijing Time). He was born to first time parents Cookie & Fattiger (aka Dillon). Unfortunately, the calf had to be hand-raised by staff almost immediately after he was born. Cookie, his mother, failed to nurse & bond with him properly.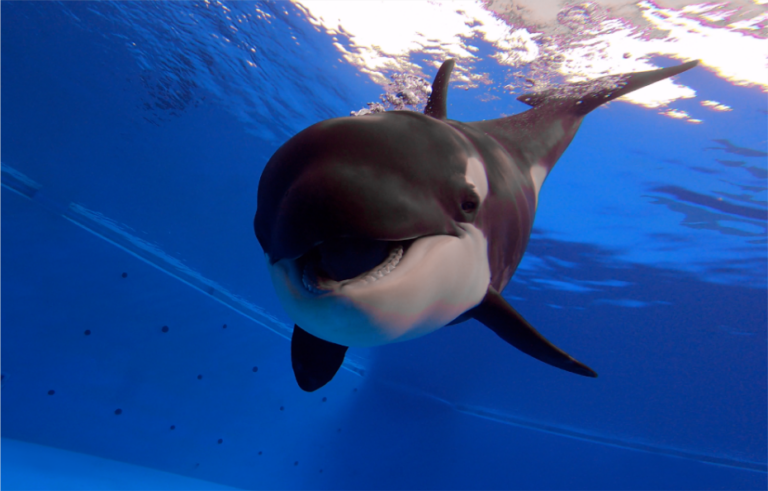 At birth he weighed about 233 kilograms & measured 2.5 meters long. After almost nine months, the calf now weighs about 411 kilograms & measures 3 meters long. The calf is described as healthy and spends everyday with his trainers enjoying enrichment activities. The park is holding a contest on WeChat where users can submit name ideas for the calf. The winning name will be announced on June 16th.
While the announcement of this calf may be exciting it is also a grim reminder of the past and future of Shanghai's captive orcas. With the exception of the male calf, all orcas at the park were captured from the wild between the ages of 3-7 years old. At this age, they would have still been dependent on their mother's knowledge on survival and their pod's culture. It's tragic they were ripped away from their families, and as a result of not having her mother's guidance, Cookie rejected her first offspring. Unfortunately, this instance of a mother rejecting her calf will likely be the first of many. (@bornto.bewild / @chinaorcanews)


March 28, 2022:
On 9 September 2021, a calf was born to Cookie, a female orca captured in the Sea of Okhotsk and held for display at Shanghai Haichang Ocean Park. An anonymous video, shared with China Cetacean Alliance, showed the moment this calf was born. Immediately after birth, the calf darted away from Cookie and nearly collided with the tank's acrylic observation window. The calf then surfaced for air after 20 seconds and started to swim all over the tank, quite erratically. Cookie swam gently after her calf and stayed close to the surface but the two never seemed to properly bond.
In the short video, there was no sign of bonding behaviour. Later, one source told CCA that Cookie did not bond well with the calf and never nursed. The park then decided to bottle-feed the calf. Since then, the calf has been kept in the medical pool, with the water no deeper than 1m. Trainers had to manually milk Cookie and then feed the calf with formula as well.
The calf was still kept in the medical pool on 21 January 2022. Sources confirmed to CCA that the calf was kept alone since Day 1, as management felt this made it easier for trainers to intervene and keep the calf alive.
A netizen posted a photograph of a gift box that contained two orca calf pins on 7 February 2022. CCA is still trying to confirm with the source if Shanghai Haichang Ocean Park is planning to exhibit the orca calf in the near future.
Shanghai Haichang Ocean Park is currently closed due to COVID, and an opening date has not been decided yet. (@chinacetaceanalliance)


March 26, 2022:
Tokitae/Lolita WILL receive an independent medical evaluation by a third-party vet. @mayordlc said 'We look forward to sharing that updated once the evaluation is complete', Mayor Daniella Levine Cava also expressed her thanks to Tokitae's supporters, saying, 'I am also personally grateful to every person around the world who has advocated for the care and wellbeing of Lolita, including @commissionerregalado whose continued advocacy has helped makes this moment possible'.
We still don't know if @thedolphinco will release Tokitae to a sea sanctuary, but this feels like a positive step towards a level of transparency surrounding Tokitae that we've previously not seen. (@mediabymads)


February 8, 2022:
Lolita, Miami Seaquarium's 55-year-old orca, is reportedly gravely ill. She began showing signs of pneumonia in January and her health has failed to make much improvement. The stadium Lolita has been performing in for over five decades has been closed off to the public for months so unfortunately we are unable to get a view on her current physical condition.
Lolita is a wild-caught orca who was captured on August 8th, 1970, at Penn Cove, Washington. She was transported to Miami Seaquarium and has remained there since then. When she arrived at the park Lolita was introduced to the only other orca Seaquarium owned – Hugo. Tragically, Hugo had a habit of self-mutilating by slamming himself against the concrete walls of the tank. He eventually died in March 1980 of a brain aneurysm and Lolita has never seen another orca since then.
Activists have been protesting against Lolita's disbecable living conditions for decades now. However, The Dolphin Company, Miami Seaquarium's new management, have expressed their desire to improve Lolita's quality of life and have even voiced interest in retiring her to a sea sanctuary. Let's hope she will make a full recovery so she can eventually be retired from her abysmally tiny concrete tank to a much larger and environmentally stimulating sea-pen! (@bornto.bewild).


January 11, 2022:
Making endless circles in an illegally-sized tank while her family still roams the ocean, is the depressing 52-year reality of Miami Seaquarium's "Lolita."
There is hope for her. Miami Seaquarium's new management, Mexico-based The Dolphin Company, has pledged their commitment to improving Tokitae's living conditions, even expressing their willingness to consider the option of retiring her to a Sea Sanctuary and work with the organizations trying to make this a reality. After everything she has been though, she is 100% deserving of a better life, no matter where that may be.
Over $21,000 dollars has so far been donated and secured to help Tokitae and the Lummi, (tribal nation tied to the Southern Residents and the Salish Sea) raise funds to begin this journey. To learn more, click here. (@orcarescues)


January 6, 2022:
Drone footage provided by @chinacetaceanalliance (CCA) shows Cookie's almost four-month-old calf, alive, in the smallest backstage tank at Shanghai Haichang Ocean Park in China. Cookie is believed to have given birth on September 9th, 2021, to a calf of unknown sex and sire. According to CCA, Cookie struggled to establish a bond with the calf – not an uncommon occurrence with first-time captive mothers – and failed to successfully nurse her calf, resulting in staff separating the pair and hand-rearing the youngster.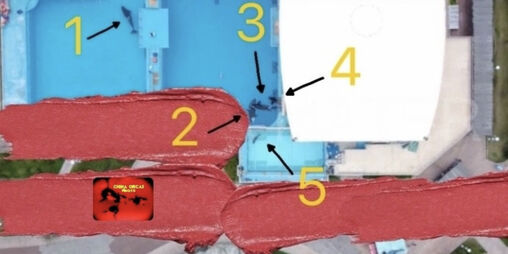 This is the first public picture available of the calf, who's existence has been speculative up until this point. In the months leading up to the birth we speculated Cookie was pregnant as she had been taken out of shows and appeared much rounder than her tank mates, despite being the youngest and smallest orca at the park. Photos of Cookie taken in September showed she had a swollen abdomen and mammary area which are indications of a recent birth.
All of Shanghai Haichang Ocean Park's orcas, with the exception of the calf, were captured from Russian waters in 2015. Cookie, Dora, Dylan, and Sean have been publicly exploited by Shanghai Ocean Park since it's opening in November 2018. The birth of a calf, while disappointing, is not surprising. Unfortunately, the only life this baby will know is that of the four walls of Shanghai's barren concrete tanks. (@end__speciesism / @bornto.bewild)